CMT Honors The 2019 Artists Of The Year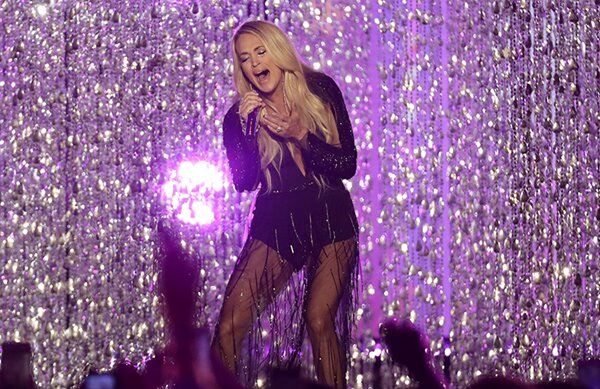 CMT's Annual Artist of the Year celebration took place last night at Nashville's Schermerhorn Symphony Center, with this year's honorees including Carrie Underwood, Dan + Shay, Kane Brown, Luke Combs and Thomas Rhett.
Reba McEntire was honored with the CMT Artist of a Lifetime Award, and was saluted by Lady Antebellum, with Hillary Scott noting that Reba "showed me the definition of what it meant to be an artist." The band then performed "Is There Life Out There."
Vince Gill came out to speak from the heart about Reba, noting he's "shared a lot of life with Reba," as duet partners, touring partners and more, adding, "the most important thing you are is my friend." Reba thanked the folks in the audience have helped her along the way, noting, "I'm very blessed to have so many friends." "I can say I've been in this business 43 years," she added, "I can say I've loved every, no almost every minute of it." Sam Hunt then ended the tribute a performance of Reba's classic "Fancy."
The night was certainly an emotional one, with some great performances and stand out moments. Highlights included:
Dan + Shay

opened the show with their hit "Tequila," although the sound was a little off in the beginning, they soon proved why the won the award.
"This Is Us'"

Chrissy Metz

honored Luke Combs, who was on tour and couldn't be there in person, by performing his latest single "Even Though I'm Leaving."
Chris Young

was on hand to celebrate

Kane Brown, who attended the show, but didn't perform as he was still dealing with

the loss of his drummer

Kenny Dixon

who died over the weekend in a car accident. A tearful Kane dedicated the award to Kenny, who he said was with him from the very beginning.
Chris then came out and performed his song "Drowning," which he wrote about losing a friend, and it definitely brought members of the audience to tears.
CMT Breakout Artist of the Year

Ashley McBryde

performed her song "One Night Standards," and got teary-eyed thanking everyone for recognizing how she "busted her a**" this year.
Five-time Artist of the Year winner

Carrie Underwood

wasn't in the house because she's on her "Cry Pretty 360" tour, so they beamed her performance in from Cleveland, with Carrie treating the audience to "Two Black Cadillacs," and "Blown Away."
Thomas Rhett, who was introduced by his very pregnant wife

Lauren, performed the song "Dream You Never Had" on TV for the first time, and then paid his respects to Kane and his late drummer's family, using his time at the stage to pray for both of them.
Source: Dr. Dave's Ultimate Prep