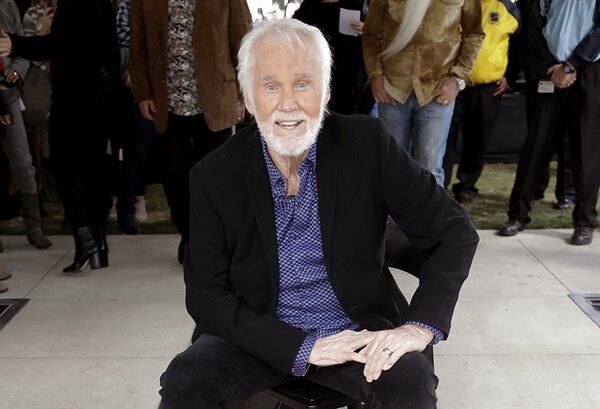 Legendary singer Kenny Rogers passed away Friday night from at the age of 81. "The Rogers family is sad to announce that Kenny Rogers passed away last night at 10:25PM at the age of 81," read a statement posted to social media. "Rogers passed away peacefully at home from natural causes under the care of hospice and surrounded by his family."
Kenny first gained fame as a member of the group The First Edition, which had a Top Five hit with "Just Dropped In (To See What Condition My Condition Was In)," as well as the Top Ten hit "Ruby, Don't Take Your Love To Town."
In 1975 Kenny moved to Nashville and signed with United Artists Records, and had his first big hit in 1977 with "Lucille," which not only topped the country charts, but went to number five on the Hot 100. He followed that with such classic hits as "The Gambler," "She Believes In Me," and "Lady," (written by good friend Lionel Richie), Kenny's first Hot 100 number one.
He also had a string of hits in the 80s, including "Through the Years," a cover of Bob Seger's "We've Got Tonight," with Sheena Easton, and his hit duet with Dolly Parton "Islands in the Stream," which went to number one on both the Hot 100 and the country charts.
In addition to music, Kenny dabbled in acting, including a series of movies based on his hit "The Gambler," and he even opened a successful chicken chain, Kenny Rogers Roasters.
Rogers continued to tour throughout his career, until health issues forced him to retire from touring in 2018. Because of the coronavirus, Kenny's family will celebrate his life with a small private service, but hopes to celebrate with a larger one at a later date.
Click here for reactions from fellow stars, and click here for musical tributes to Kenny.
The Rogers family is sad to announce that Kenny Rogers passed away last night at 10:25PM at the age of 81. Rogers passed away peacefully at home from natural causes under the care of hospice and surrounded by his family. https://t.co/adxAgiMW2s pic.twitter.com/nggWiiotMT

— Kenny Rogers (@_KennyRogers) March 21, 2020
Source:

Billboard